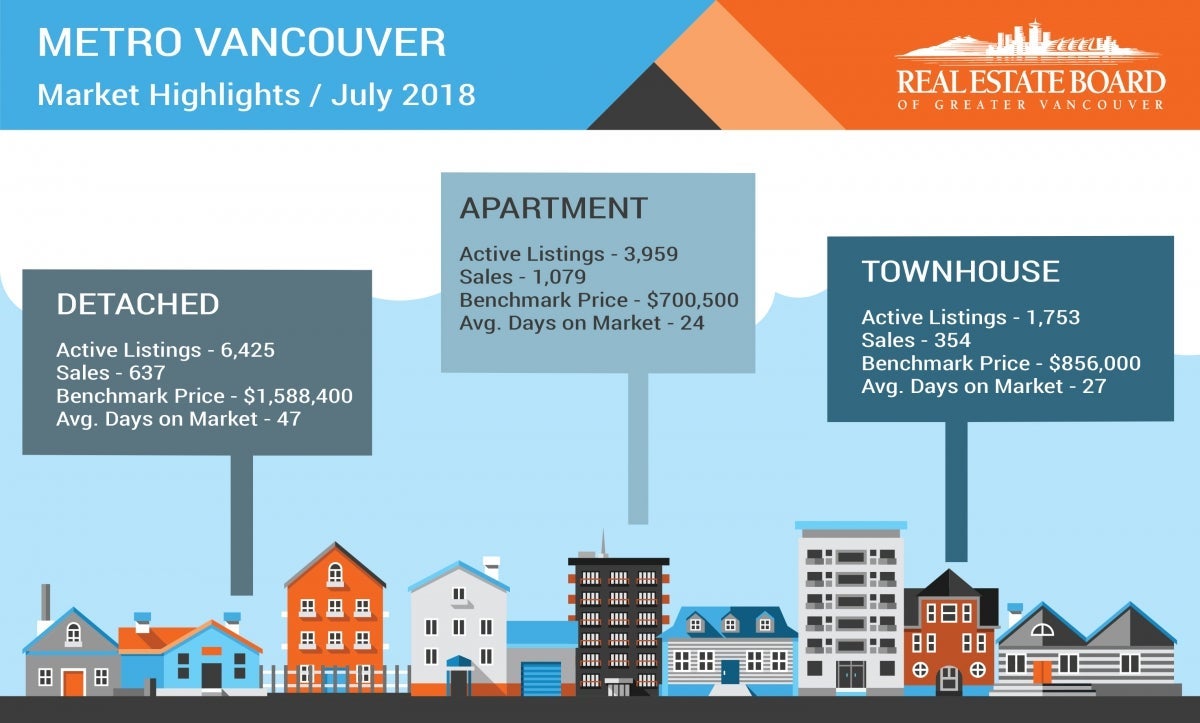 Sales to Active Listings Ratio*
According to the statistics above, Detached market is well in the Buyer's market, Apartment is well in the Seller's market, and Townhouse in on the border line of Balanced and Seller's market. 
Now is the best time to consider up-sizing and trade your apartment for a house!
Months of Inventory (MOI)*
Detached: 10 Months
Apartment: 3.7 Months
Townhouses: 5 Months
The MOI also suggests that the Detached market is well in the Buyer's market, the Apartment is in the Seller's market and Townhouse is in the Balanced market, approaching the seller's market. (In order to understand these numbers and how to interpret them, look at the Note below)
The Real Estate Board of Greater Vancouver (REBGV) reports that residential property sales in the region totaled
2,070
in July 2018, a
30.1
per cent
decrease
from the 2,960 sales recorded in July 2017, and a decrease of 14.6 per cent compared to June 2018 when 2,425 homes sold. Last month's sales were
29.3 per cent
below the 10-year July sales average.
The total number of properties currently listed for sale on the MLS® system in Metro Vancouver is 12,137, a 32 per cent increase compared to July 2017 (9,194) and a 1.6 per cent increase compared to June 2018 (11,947).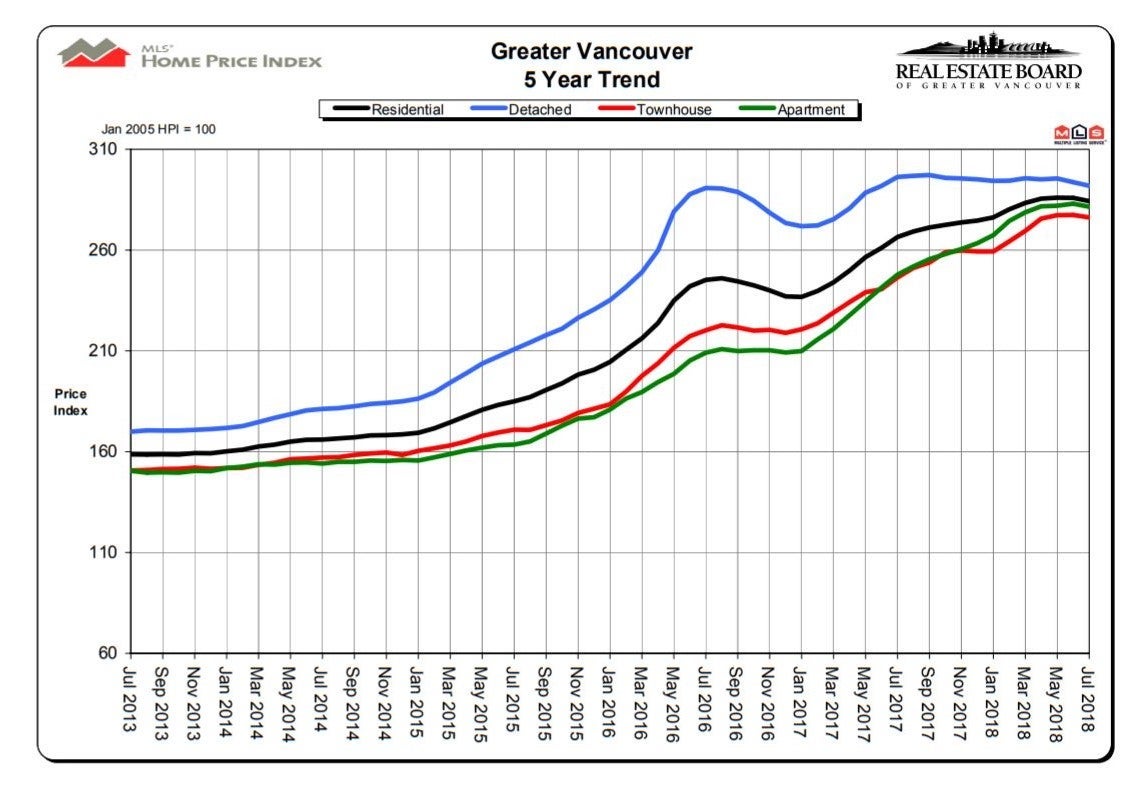 As it shows in the 5-year trend picture above, the Home Price Index for most categories has been experiencing a downward or steady trend recently! Detached market has been experiencing the lack of upward trend
since July 2017
, where as Apartment and Townhouse have been experiencing it almost
since April 2018
. 
--> If you are looking to buy, sell or just trying to understand the market better, give me a call today and I'll by delighted to assist you with it! <--
*Sales to Active Listings Ratio is indicative of the likely market type and speed of which homes are selling.  (For example, a 100% Sales Ratio means 10 in 10 homes selling rate). There are 3 market type indicators: 
Seller's Market: Over 20%     Balanced Market: 12%-20%     Buyer's Market: Under 12%
*Months of Inventory in an indicator of how long it takes for the current inventory to sell, which is divided into 3 types: 
Seller's Market: Under 4 months     Balanced Market: 4 to 6 months     Buyer's Market: Over 6 months